Halloween Costumes 2020: What's New?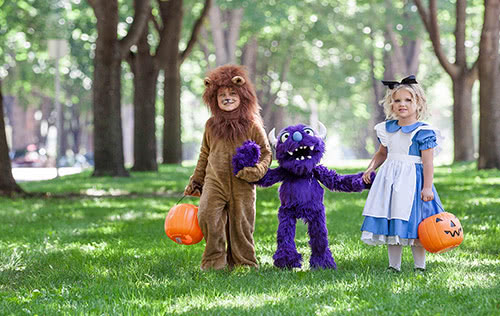 Yikes, is it really 2020 already? Have we rolled through another 365? Wow! Time really flies, but you know what that means! It's a new year and it's time to start brainstorming brand new Halloween costume ideas. Tons of new movies, games, and TV shows are lighting up the stage that is 2020, so you'll have plenty to draw inspiration from this year. We've been tracking it all (it's kind of our thing), from brand spanking new superhero movies, to Disney's latest works, and even the epic conclusion to a certain HBO show that we've all been feverishly waiting to watch. (Yes, we're talking about you, Game of Thrones!) We've been keeping an eye on all of the new trends for the best Halloween costumes so you don't have to. Just check out our list of the best Halloween costumes of 2020 and you'll be up to date in no time. We're sure you get a few solid Halloween ideas along the way!
Halloween Costumes for Kids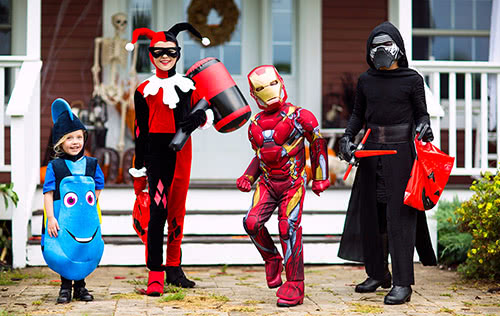 Pleasing kids can be tough. Those young whippersnappers seem to be into something new every week! Paw Patrol this week and then Cars the next! What might look like one of the most popular Halloween costumes one second could become old news in a flash. The good news is that we've picked up on a few costume ideas for kids that are holding strong throughout 2020. Superheroes are still big this year with Avengers characters running strong. Star Wars costumes for kids are another hot trend. With the final movie of the trilogy coming out this year, plenty of kids are ready to experience their generation's Star Wars story come to an end. If all else fails, you can always default to Disney costumes. With such a large selection of movies to choose from, they're always popular among younger children.
Fortnite Costumes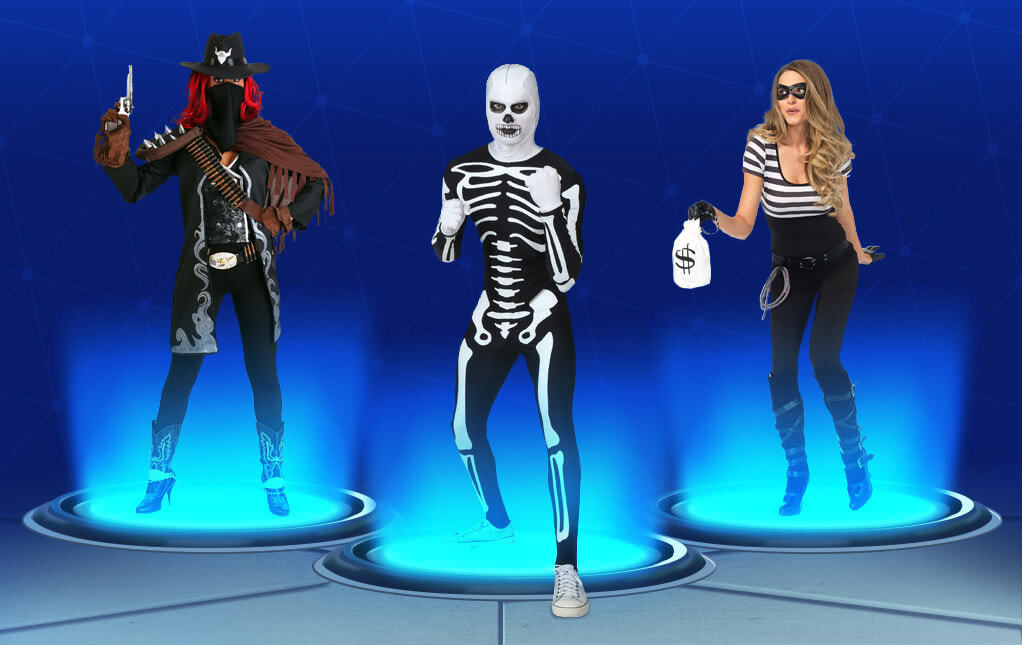 A fortnight used to be a fancy way of saying "14 days". Totally not the case anymore! Now, Fortnite is a video game that pits competitors against each other in a Hunger Games-style tournament. The last one standing wins. Of course, Fortnite costumes are hot right now. The great news is that DIY costumes are pretty straightforward when it comes to Fortnite. We have all the pieces you need to craft your own custom cosplay based on the game. A DIY Fortnite costume can be as simple as adding a few accessories to a classic costume to perfect the style of an in-game avatar. Rapscallion and Skull Trooper are pretty easy to create with a little imagination. If that's not really your style, be sure to check out some of our other video game costumes to find something a little more your style.
Harley Quinn and Joker Costumes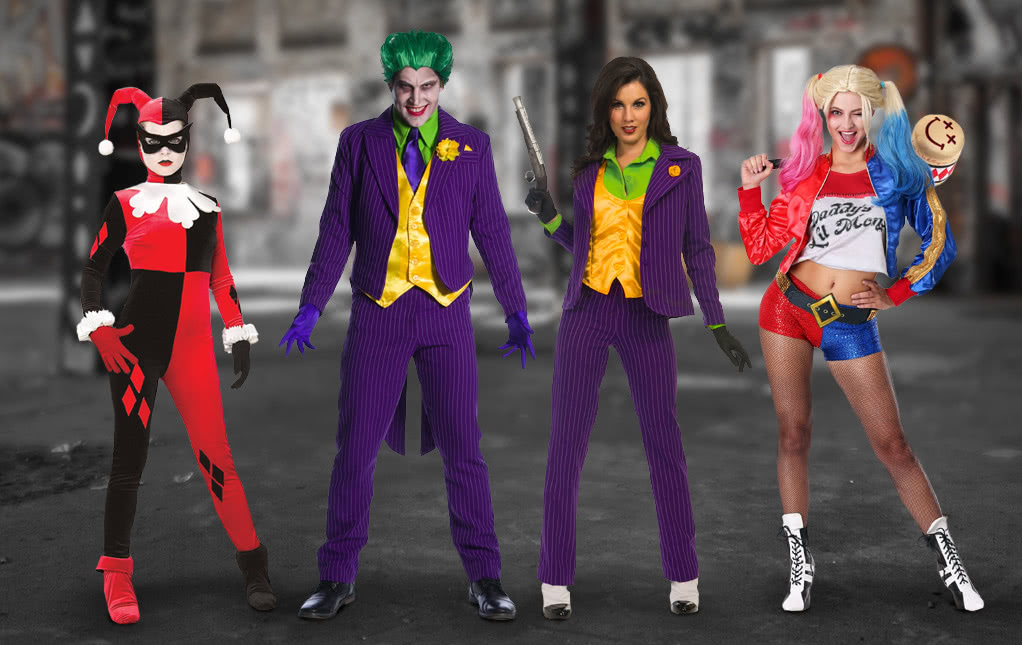 You just can't keep a good clown down. Although Batman does a pretty bang-up job of keeping the peace in Gotham City, The Joker and Harley Quinn always seem to show up to wreak some havoc. In 2020, we have a brand new movie starring Joaquin Phoenix as the troubled Arthur Fleck, the man who would become The Joker. This has revitalized interest in the classic DC villain, despite not being set in the current DC universe continuity. And Harley? Well, Harley Quinn is ALWAYS popular. She proves to be one of the greatest villainess characters to ever grace the pages of a comic book. Murmurs of the new Birds of Prey movie have already begun, so we expect our favorite Harlequin to surge in popularity as more news about the film trickles out.
That's why Harley Quinn and Joker costumes are going to be another excellent costume choice this year. Not only has the new movie revitalized interest in Gotham's most notorious couple, but it also works as a quick and easy couples costume for couples looking to be a little bit bad this year. Just remember that Batman will be watching your every move if you and your significant other head out wearing our Joker and Harley Quinn costumes.
Game of Thrones Costumes
Winter is here. And holy bananas did it take forever! Just about everyone had been patiently (some not-so-patiently) waiting to witness the conclusion of Game of Thrones. We almost thought it would never come, but with 2020 here, we finally got our wish! Chock full of White Walkers, heartfelt reunions, epic battles, and more than a few tragic deaths, it put all of the theories to rest and marked a conclusion to the series. Along with this rekindled love of everything Westeros is Game of Thrones costumes. With the complicated nature of our main protagonists, Jon Snow costumes and Daenerys Targaryen costumes are at the top of the list when it comes to the best Game of Thrones characters to dress up as this year. Other great ideas include Jaime Lannister, considering his recent arc in the show and Arya Stark, since no one messes with that deadly little lady! With so many characters it might be hard to decide which character to dress as, so go ahead and browse through our full selection of Game of Thrones costume ideas.
Movie Costumes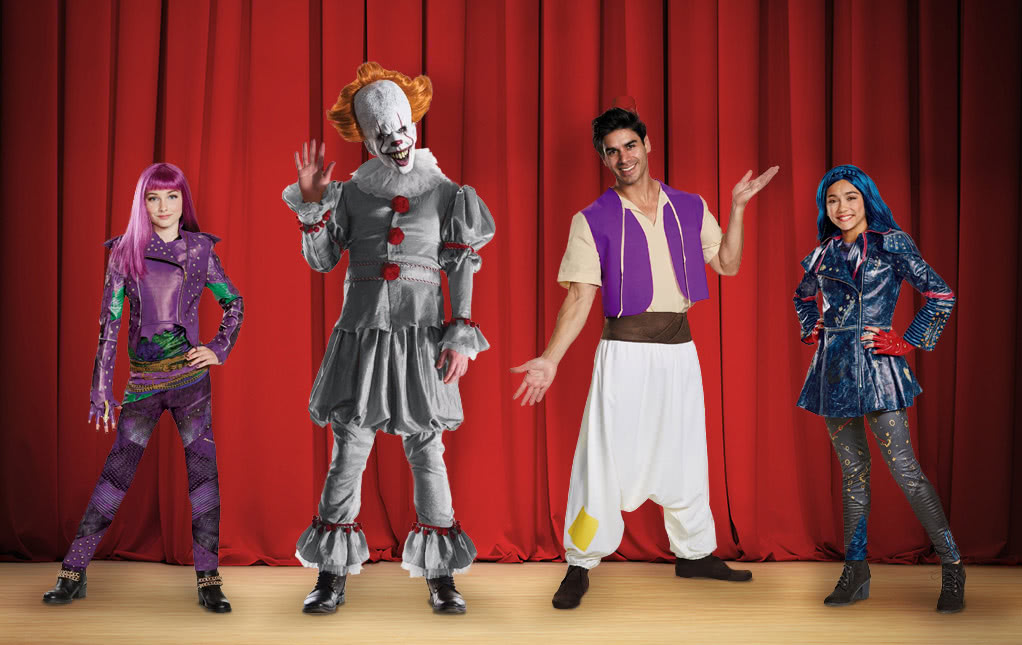 2020 is the year of all the movies! There was the Marvel lineup of films, along with Detective Pikachu, Dumbo, and so many more fun films that we can't even list them all. We may have spent more time at the theater this year than at home! That makes things easier when trying to cook up some new ideas for 2020 Halloween costumes. With so many hot movies this year, we think a lot of them are going to be showing up as the hottest costumes this year. It: Chapter Two has brought a resurgence of scary clowns, so a Pennywise costume is just what the doctor ordered when it comes to scary costumes. It's an easy way to scare the pants off of everyone in your neighborhood.
Of course, scary isn't the only way to go when it comes to movies. Disney has a pretty impressive offering this year, including the return of Descendants 3. The series depicts the story of misunderstood villain kids, making them a pretty relatable bunch. That makes Descendants costumes great choice for teen kids this year, and we have the most popular characters, like Mal and Evie. And we can't forget Aladdin! The live action movie has brought the classic "Street Rat" back into the limelight once again, so expect Aladdin costumes to be popular Halloween costumes in 2020.
Toy Story Costumes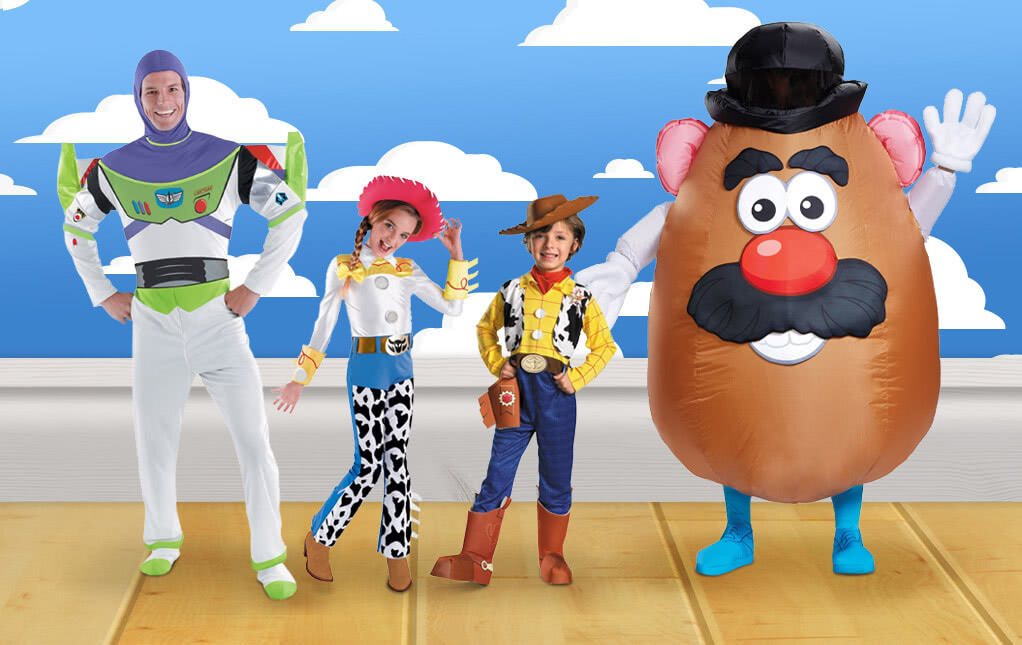 Speaking of Disney movies, Toy Story is back. We thought that Toy Story 3 marked the end of the series, but we were pretty happy when Pixar announced the third sequel for 2020! Another gem in the series, Toy Story 4 brings back the classic characters and mixes in some new favorites. That means Buzz Lightyear costumes and Woody costumes have made a huge comeback. Kids and adults alike will want to relive the classic scenes from their favorite movies. Our Jessie Toy Story costumes are also shaping up to be a great costume idea for girls. The best part about these costumes is that they're entirely family-friendly, so if you're looking for a group costume that everyone can enjoy, then this is definitely the way to go in 2020.
Avengers Costumes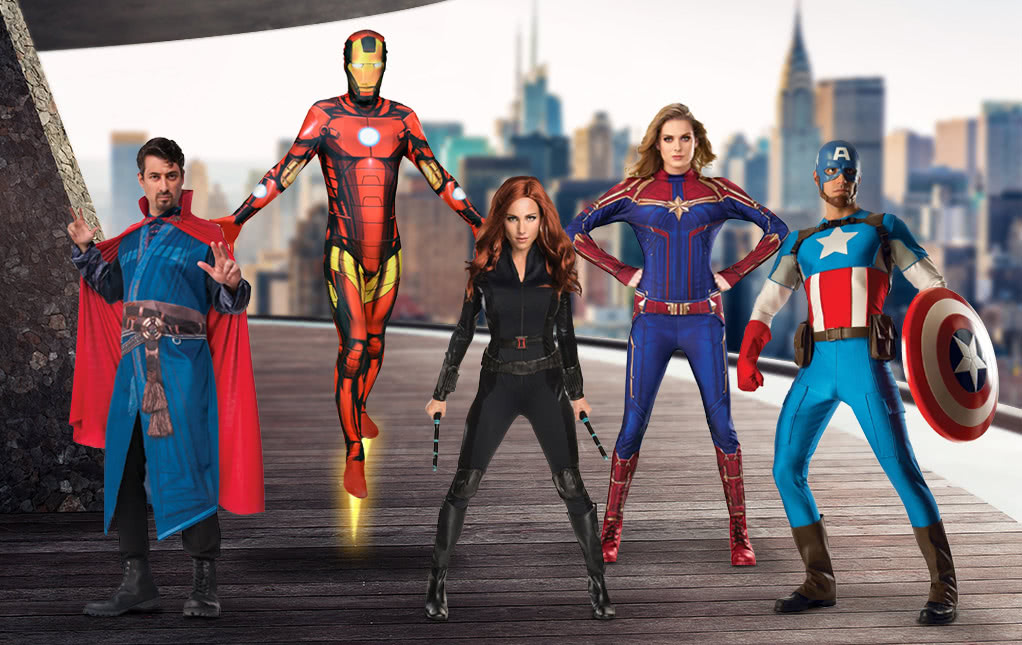 In our book, 2020 was really the year of Marvel. Avengers: Endgame crushed it this year, bringing a finale to all the years of superhero escapades on the silver screen. It almost brings a tear to our eyes to know that this age of superheroes is coming to an end, but we'll have a new wave of characters to carry the torch in the next phase of the Marvel Cinematic Universe. So, which Avengers costumes are contenders for the top Halloween costumes this year? Well, first off we have Carol Danvers! Hot off her success in her solo debut, she came back in Endgame to kick some serious butt, so Captain Marvel costumes are the top contender when it comes to superhero costumes. Captain America and Iron Man also had an intense showing in the latest entry, so expect both of them to be good Halloween costumes to wear. If you want something unique, we like a Doctor Strange costume as a dark horse choice. Then again, you could go full villain and dress up like the infamous Mad Titan himself! Just don't be surprised if a band of heroes shows up to stop your plans if you chose to walk around wearing a Thanos costume.
Of course, a certain superhero from the Avengers is generating some extra buzz this year. Despite coming out last year, people are still pretty hyped about the last animated Spidey film. Spider-Man: Into the Spider-Verse Costumes will keep holding strong through Halloween this year and Spider-Gwen costumes are still as popular as ever! Not to mention Peter Parker's new adventure in Spider-Man: Far From Home. The sky is really the limit when it comes to Marvel costumes in 2020.
Star Wars Costumes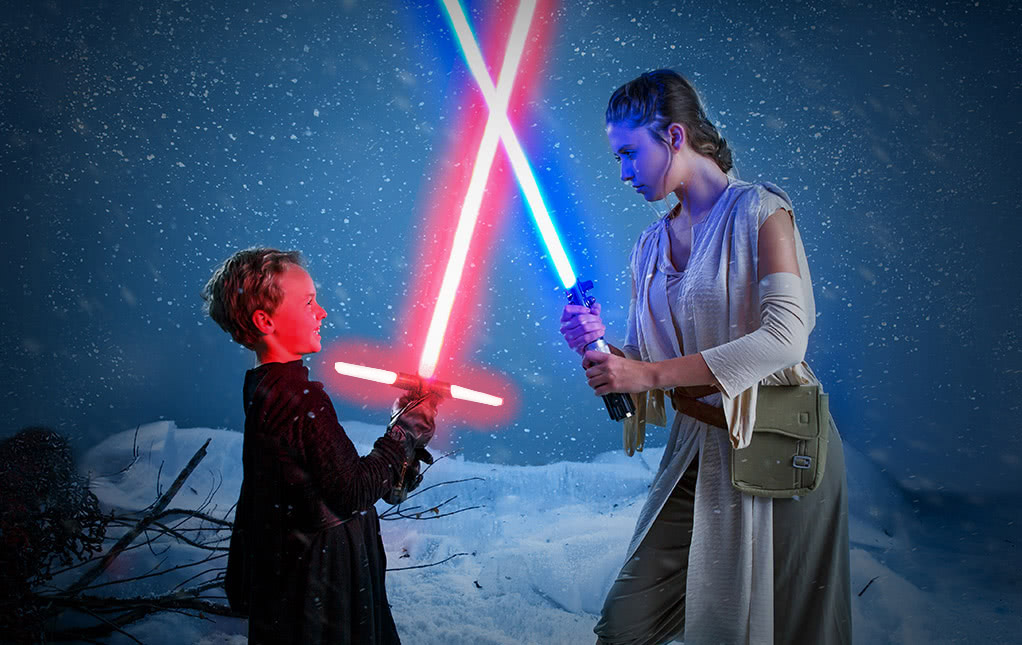 Another gigantic series coming to a close this year is the Star Wars sequels. It's been quite the rollercoaster ride over these last few years. First, we got a glimpse of our favorite characters from the galaxy far, far away when The Force Awakens hit theaters. Then, The Last Jedi sparked up controversy by subverting everyone's preconceived notions about the Star Wars universe. Love it or hate it, you have to admit that it really showed the world just how passionate people still are about it all! Now, we get to see how J.J. Abrams wraps up the whole saga. That's why Star Wars costumes are setting up to be a pretty big deal this year. The final chapter, The Rise of Skywalker, focuses around the struggle between Rey and Kylo, so expect them to be hot costume ideas this year. Classic favorites will also be a strong choice this year, since many will still be ready to honor the late Carrie Fisher's memory by donning a Princess Leia costume. Partially due to Mark Hamill's stunning performances in the new Star Wars movies, we'd also place our bets on Luke Skywalker being a major player in the costume game this year! And then there's Chewie. When it comes to Star Wars costumes for adults, Chewbacca NEVER goes out of style, so if you're looking for a costume to stand the test of time, always choose the Wookiee.
Llama and Sloth Costumes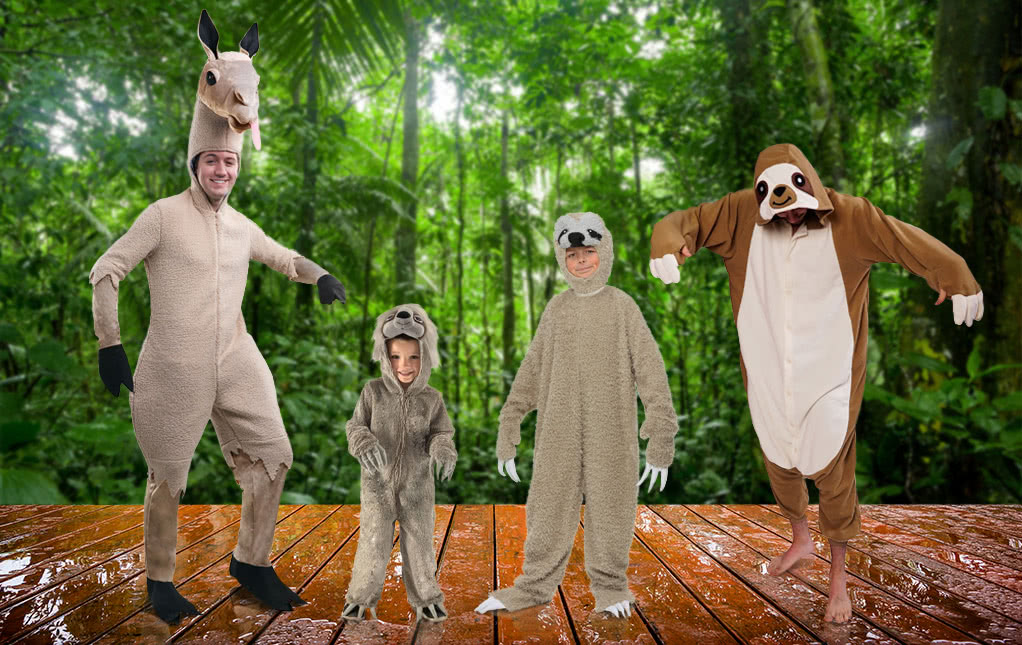 Animal costumes are popular every year. This year is shaping up to be the year of the sloth. It used to be a peculiar insult to be called a sloth, but these days people are taking a note from the lackadaisical creature's book and kicking back! People love sloths now because they can relate to their passion for taking it easy and adorable images of the critter have been popping up all over social media. If you're into relaxing like a boss, then choosing a sloth costume may be your best option this year. We also have to give it up for llamas. There's been a pretty steady increase in llama love spreading across the internet over the last few months, so we're expecting llama costumes to see a significant uptick this year. Yes, you read that right! Llama costumes will be on the rise, so make sure to get in on the ground floor on this fluffy costume trend.
Oddly enough, lion costumes are also hitting our radar. We can't quite put our finger on this surprising trend, but keep an eye out for the feline critter this year. They may just be the underdog animal costume of the year so if you're looking for a style that's a little left of the dial, then go ahead and suit up as the king of the jungle.
Astronaut Costumes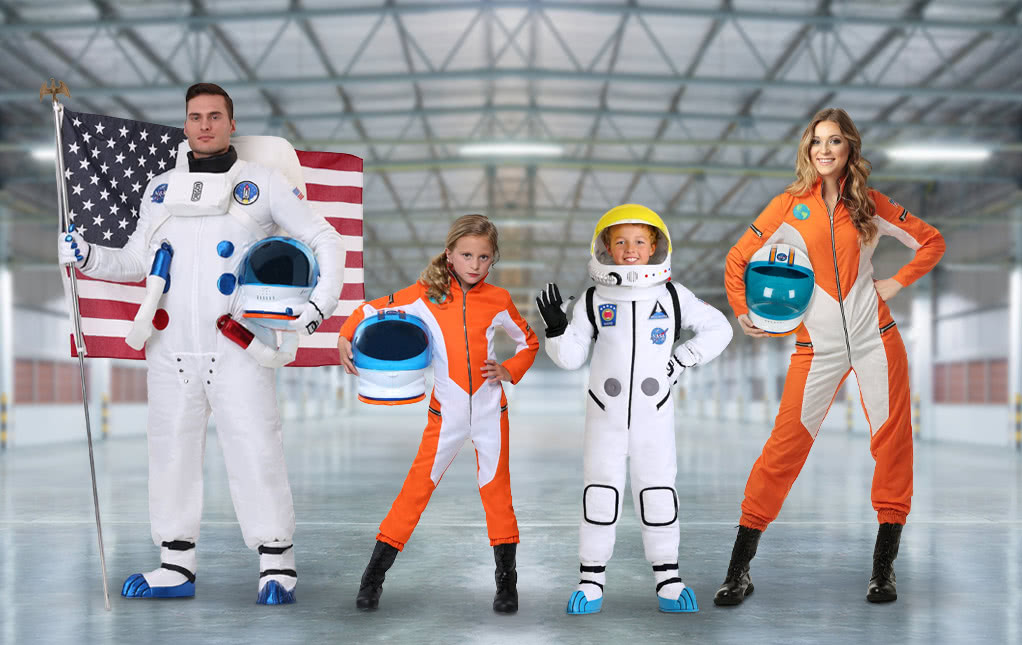 Science is making a comeback! Cool new discoveries came about in 2020, like the first image of a black hole that scientists have been able to obtain. They were also able to detect earthquakes on Mars! (No sign of aliens yet, but we're crossing our fingers.) All of this exciting space news has rekindled the interest in space exploration…which has also sparked new interest in Astronaut costumes! Children have always been enamored by the idea of space travel, so it's not really a surprise that some of our kids' astronaut costumes are picking up a lot of steam this year. We recommend our exclusive costumes made by our in-house designers. They're a cut above the rest and give a realistic look for any aspiring young space adventurer. We know that adults dream of space exploration too, which is why our adult astronaut costumes are great for anyone who had a dream of piloting a rocket ship in their youth!