Star Wars Halloween Costumes
So you've decided to suit up for an adventure in a galaxy far, far away. But aside from the fact that you love Star Wars you probably don't even know where to begin! Fear not, for we here at HalloweenCostumes.com are not only your number one source for the best selection for official Star Wars costumes on the web, but we're also bonafide costume experts and possess a Yoda-like knowledge of all things Star Wars related. So naturally, we've assembled some of our favorite costume ideas, tips, and tricks to help give you a hint, nudge, or a totally not so subtle push headfirst into your Star Wars cosplay adventure. Check out our costume guide to get the skinny on some of our favorite licensed Star Wars outfits. Scroll further down to view our illustrated breakdowns of character costumes in both the original trilogy and the prequel trilogy. From Rey costumes to Stormtrooper costumes, we have just what you'll need for any Halloween party or cosplay. Whatever resources you need to get your costume search started, we're here to help, because we're certain that the force is strong with you...
Authentic Star Wars Costumes
So no ordinary Star Wars costume is going to work for you because you want your look to be authentic! Fortunately, we have a great selection of supreme costumes (that may or may not have arrived by intergalactic freighter...). These Star Wars costumes for adults have movie replica details with heavy-duty materials and construction, and you'll be ready to star in the next sequel. We particularly like the authentic villains with Boba Fett, a Stormtrooper or an Imperial Guardsman to lead the battle. But if you truly feel the power of the Dark Side, the ultimate villain Darth Vader is available in a fantastic authentic edition costume (if you think you've got what it takes to fill his boots).
Darth Vader Costume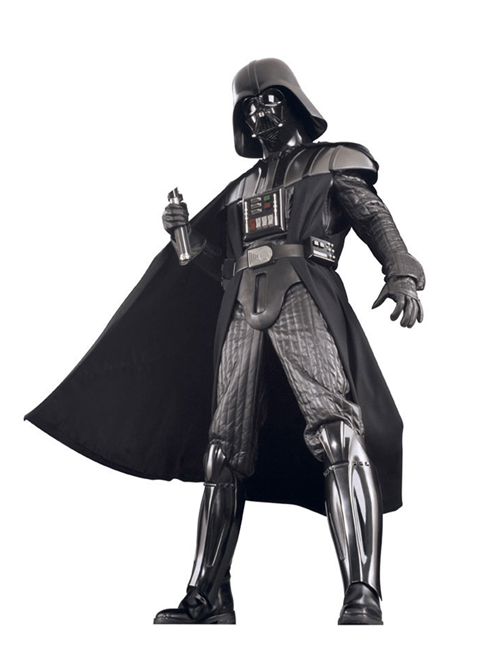 With this authentic Darth Vader costume for adults, you won't even have to parody his famous heavy breath voice effect... because it comes with an electronic breathing module that does the effect for you! With serious attention to detail like injection molded ABS material designed from the original movie props, and quality quilted and grooved faux leather material in the body suit, you'll have no trouble stepping into the role of the galaxy's most famous Sith Lord. Let the long cape flutter as you practice your force choke hold. With the LED accents flashing, and the voice module producing the eerie breath effects, we're sure you'll have any rebel scum you meet shivering in their boots...
Stormtrooper Costume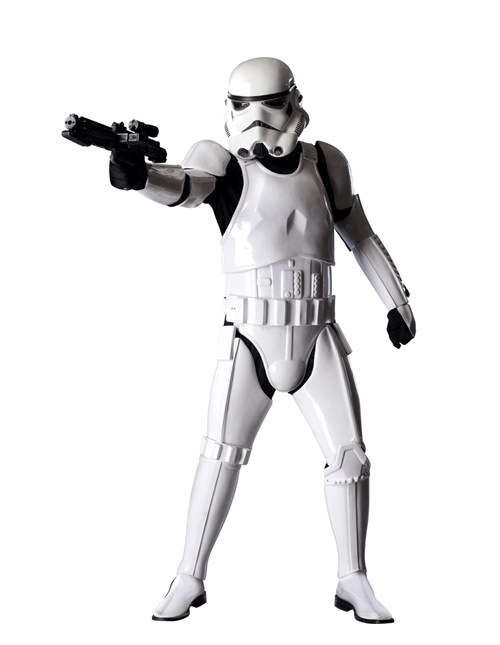 Stormtrooper down for what? You know what these guys are all about. Battling rebel scum, doing the bidding of their Emperor, punching Baby Yoda, and shooting their blaster guns with incredibly poor aim. If you'd like to suit up as a one of the Empire's foot soldiers, make sure you do it in an authentic Stormtrooper costume for adults to make the best impression. This supreme edition Stormtrooper costume has the clunky armor pieces that made the troopers instantly recognizable in the original Star Wars films. With EVA molded armor pieces and a detailed helmet designed from the original on-screen costumes, you're sure to be recognizable in this fantastic Star Wars outfit. With the detailed pieces on this adult Stormtrooper costume, the only thing you're going to need is a blaster!
Imperial Guard Costume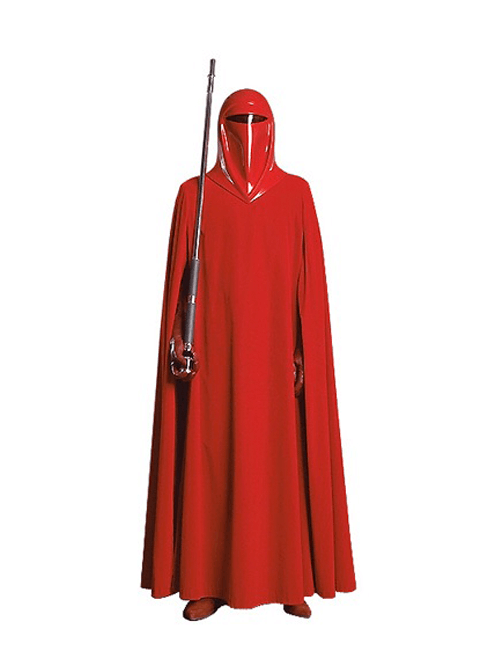 If you'd do whatever it takes to protect your Emperor, there is only one spot for you in the Imperial ranks: that of the Imperial Guard! This authentic costume will transform you into one of Palpatine's protectors in supreme style. With a luxe crushed velvet robe and intrinsically detailed replica helmet, you'll be ready to fly around in the Emperor's shuttle and help keep the Sith master in good shape. This adult Imperial Guard costume is the perfect choice to get in multiples for an amazing Star Wars-themed group costume.
Boba Fett Costume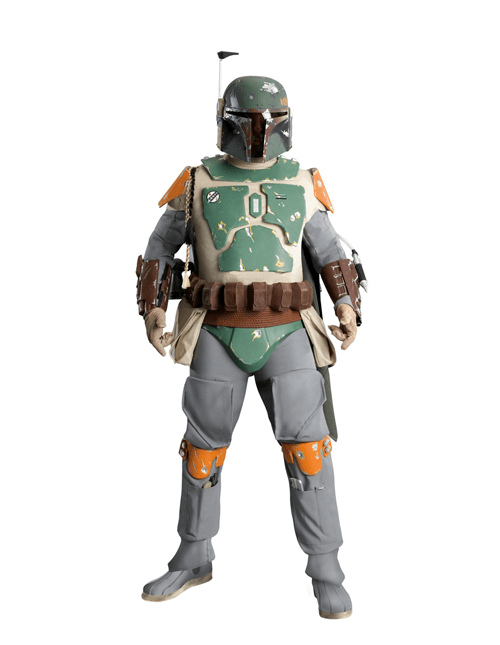 You can rest assured that your bounty is going to be paid out when you hire Boba Fett to do your bidding. But if you'd like to try to collect yourself, make sure you go in this Supreme Edition Boba Fett costume for adults. With hyper detailed molded armor pieces that look like they came straight from storage on the Slave I, you'll feel ready to step into the character's shoes and go after some serious bounties. From the painted battle scar effects on the armor to the replica helmet (and even an attached Wookie braid!) This intricately detailed costume will give you an authentic Star Wars appearance.
Adult Star Wars Costumes
If you've got a penchant for rebelling against evil Empires, chances are, you'd probably enjoy going in as one of your favorite Rebel heroes from Star Wars. With all of your favorite characters from a galaxy far, far away, we have all of the official Star Wars costumes to let you help the Alliance to restore the Republic, and defeat the evil Imperial army. We have a variety of Star Wars movie costumes at every price point, so no matter which character you'd like to portray, we're sure to have a size, fit, and price that works for you!
Padme Amidala Costume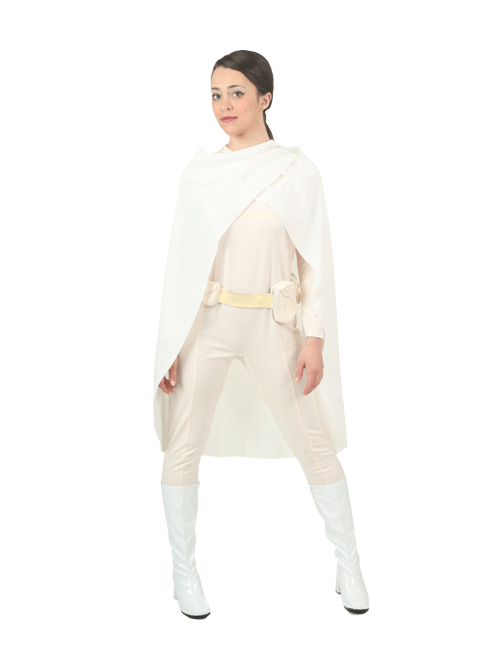 You just can't go wrong with the heroine of the prequel trilogy, Padme Amidala. As a queen and senator she always carries a regal air, but she's not afraid to mix it up in the action either! This classic Padme costume is one of her traveling costumes from Episode II. The jumpsuit shows that she's ready for action, but the cape still projects her royal attitude. For an easy DIY modification you can grab a pair of scissors, and replicate her appearance with a torn top from the battle at the Geonosis arena. However you'd like to wear this authentic Star Wars costume for women, you're sure to have an on-screen appearance with this costume.
Anakin Skywalker Costume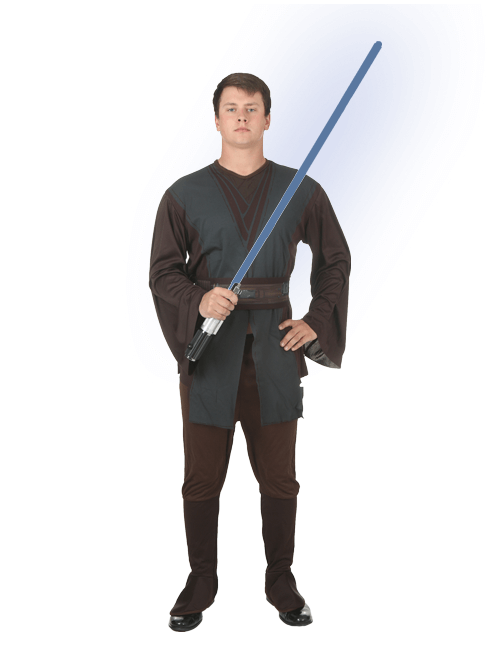 Anakin still wants to fight for the forces of good when he becomes a Padawan and a Jedi, so you can suit up in his prequel style with this detailed Jedi costume. With an easy to wear top that resembles his tunic style Jedi uniform, this printed costume tunic will have you ready to go toe to toe with some serious villains. Grab a lightsaber and practice your dueling, because with this Jedi outfit, you're sure to be ready to be a part of the prequel action.
Princess Leia Costume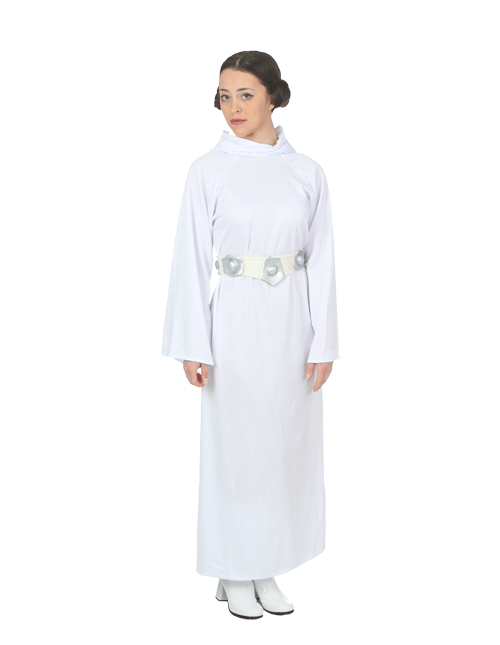 There's not a more iconic female character in the entire Star Wars universe than Princess Leia. The famed princess has no problem with being a part of the action, and even though she's wearing an elegant gown, she's ready to fight the Empire at any and every opportunity. This costume gown is the perfect look to let you step into Leia's shoes. Styled from her appearance in A New Hope, it has the flowing white gown and costume belt that helped make her famous. Just style your hair into buns, or use one of our Princess Leia wigs, and you're sure to look just like her!
Rebel Pilot Costume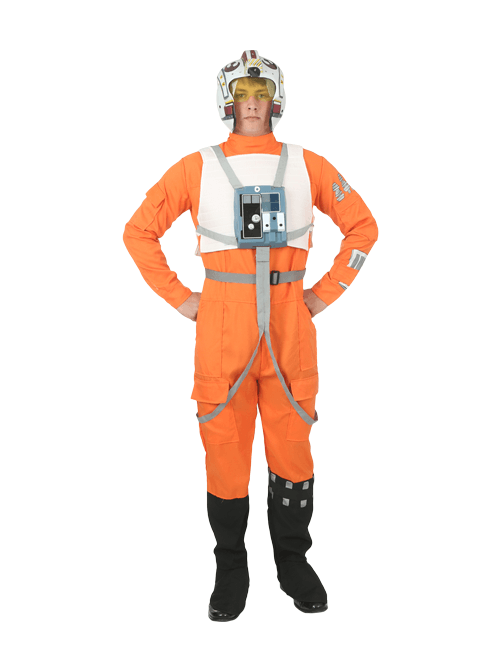 What better way to hop into the fight and battle the Empire than as a Rebel pilot? Of course, you could be Luke Skywalker when he pilots his X-Wing, but you could also portray Wedge Antilles, Poe Dameron, or a new character of your own creation. This orange jumpsuit costume perfectly captures the ragtag details of the X-Wing pilot's uniforms. With a plastic chest box accessory, printed uniform greeblie details, and a replica Rebel fighter pilot helmet, you're sure to feel like you can take down the Empire all by yourself. Just remember to follow the lead of your Squadron Commander!
Star Wars Couples Costume Ideas
If you and your significant other have a yearning to team up as a pair of heroes, a Star Wars couples costume would be the perfect choice! You're sure to steal the scene when you go as one of the iconic romantic duos from the Star Wars universe, or at least you'll be able to put the Imperial baddies at your party on notice. With authentic movie details, coordinating a pair of costumes to become a Star Wars power couple is one of the most fun ways to have a good time in a galaxy far, far away!
Princess Leia and Han Solo Couples Costume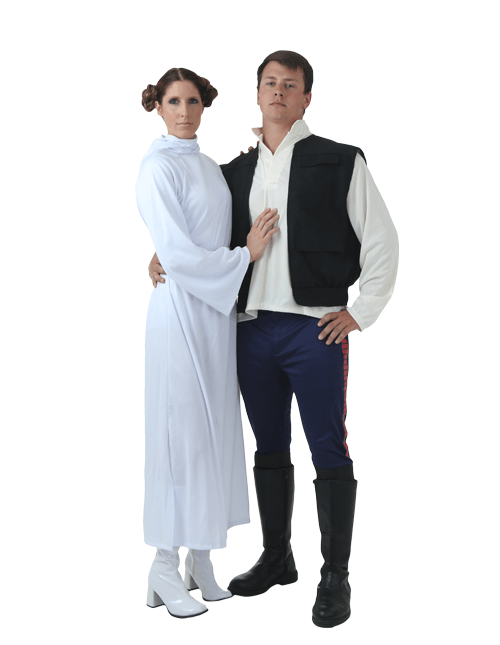 We're still amazed that a princess fell for a scruffy lookin' nerf herder, but when you coordinate a Princess Leia costume and a Han Solo costume as a couples' look, you're sure to bring some heat as these iconic characters. Leia's princess gown is the perfect touch to match Han's signature space cowboy outfit for the ultimate odd couple. Make sure to add some prop blaster weapons so you're both ready to fight the Empire!
Padme and Anakin Couples Costume
Of course, Padme Amidala and Anakin Skywalker are the secret power couple of the prequel series, so going in their costumes from Attack of the Clones will be the perfect way to get into the Star Wars universe action. The stark white jumpsuit that Padme wore while traveling is a great contrast to the brown tunic of young Anakin. You're sure to make a grand entrance when you step into the party. And if you're stepping into the Geonosis arena... well, get ready for some intense action!
Star Wars Movie Costumes
For serious Star Wars fans, you know that your favorite characters' looks and costumes evolved over the course of the franchise. We've created this handy visual guide to help illustrate their evolution. Check out this resource to help you compare movie details straight from the screen to help make your costume look more authentic or to find unique DIY touches to add the on-screen details to your unique Star Wars costume.
Luke Skywalker Costume Ideas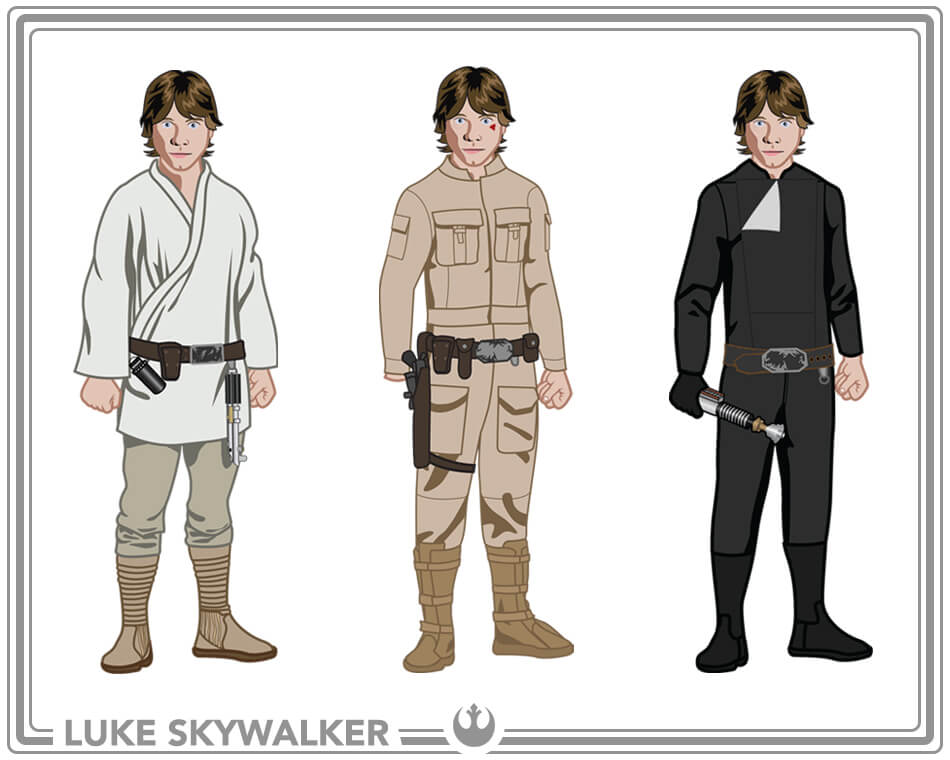 In the course of Luke's evolution through the original Star Wars trilogy, he grew from his humble beginnings as a Tatooine farm boy in A New Hope to become a Jedi Master in Return of the Jedi. Luke's costume in the first film was meant to portray a look that was both simple and practical. A basic Japanese shirt with elongated sleeves, white trousers and Chelsea style boots would serve as his costume through the movie. Accessories included a brown leather belt with multiple pouches, a lightsaber hook and knee high wraps. By the time of Empire Strikes Back, Luke's costume has evolved into a standard Rebel combat suit with some unique costume touches. Comprised of khaki wool and featuring accent pockets, this costume was also complete with a leather accessory belt. By the time he becomes a Jedi, Luke's apparel has turned into a stark black jumpsuit covered by a raw silk kimono, a look that is ominous and full of mystery.
Han Solo Costume Ideas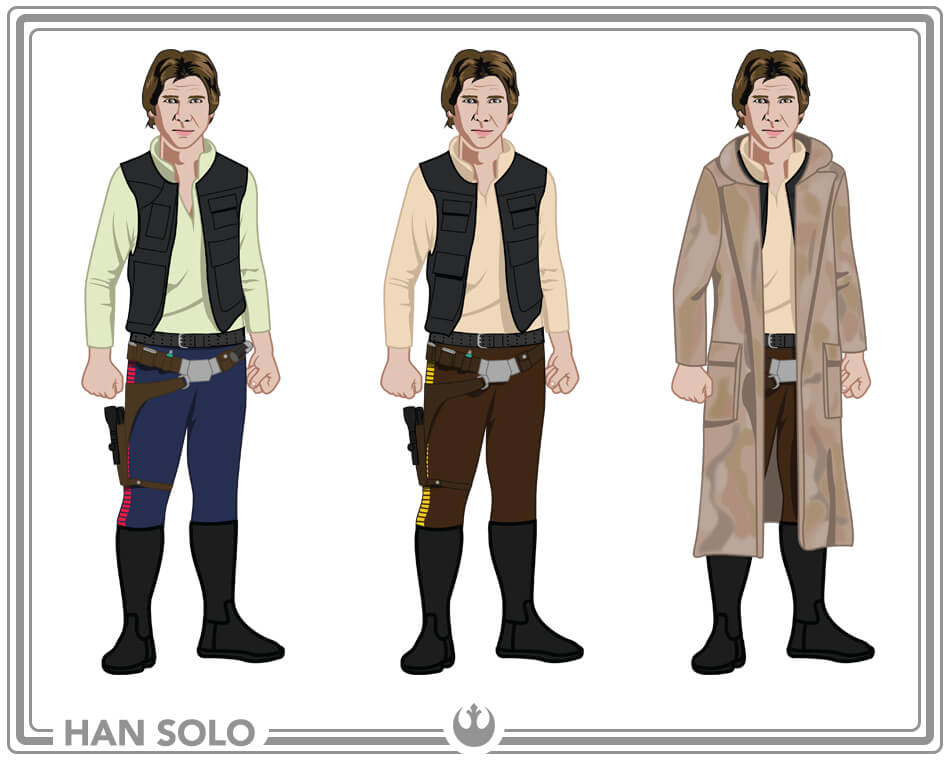 Han's costume had to help define his rogue nature so a very plain Viyella shirt and a pocketed vest, blue pants with tuxedo style segmented stripes along with a handcrafted leather gun belt and English riding boots would serve as his space cowboy-like costume. Only minor costume changes were implemented for his Empire Strike Back look, including a new western style plastron shirt replacing the previous one. A jacket similar to his original vest, along with similar boots and a gun belt finished his costume look. One of the few major costume changes throughout the trilogy involved the Endor mission, when Han donned a duster style coat. It was hand painted with an air-brushed camouflage pattern. Details on the jacket included large cargo pockets and a large slit up the back.
Princess Leia Costume Ideas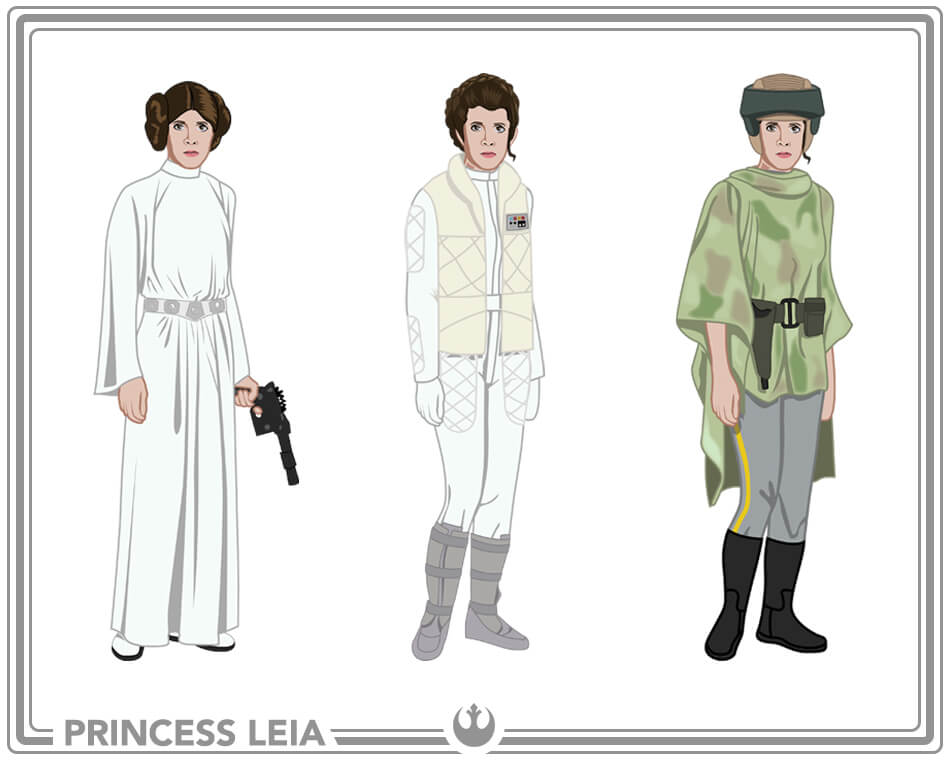 Leia starts her evolution as a Princess and a Senator, so her costume was fairly nondescript, yet still had a touch of elegance. A hooded gown made from crepe de chine featured open cut sleeves and was accented with a medieval style belt and knee high white boots. By the time of Empire Strikes Back, she has a new look as a leader of the Alliance to Restore the Republic. She wears a snow combat outfit that continues her established white pallete featuring a white jumpsuit and off-white thermal vest. She then joins the Rebel command team on Endor in Return of the Jedi, and wears the same camouflage outfitted gear as the rest of the squad. Her camouflaged poncho covered gabardine combat trousers and was accented with a custom helmet and English riding boots.
Padme Amidala Costume Ideas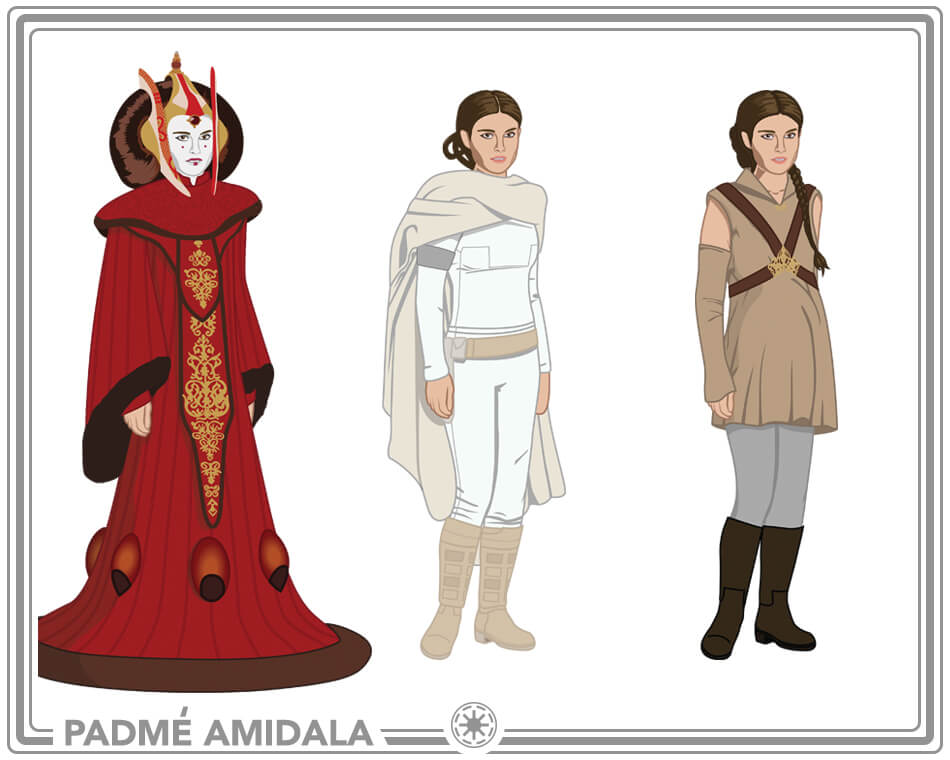 Padme Amidala has perhaps the most costume changes of any character in the Star Wars universe, but her evolution throughout the prequel trilogy outlines her evolution as a character. We first meet her as a Queen and her throne room gown conveys her regal nature perfectly. A wide-shouldered paneled gown, accented with gold embroidery, jewels, and an elegant fur hem were the key elements to this costume look. By the time of Episode II, she is both a Senator and an action hero in her own right, so her Geonosis costume is the most recognizable look of her new status. A simple white jumpsuit accented with an off-white shawl, accented by silver armbands, a tan utility belt, and action boots comprise this action ready outfit. By the conclusion of the trilogy, she has both fallen for Anakin Skywalker and is carrying their unborn child, so her costume for her trip to Mustafar is simple and accommodating to pregnancy. A tan collared shirt outfitted by a leather crisscrossing harness, accented with gloves, gold clasps, and white pants finished this costume look.
Obi-Wan Costume Ideas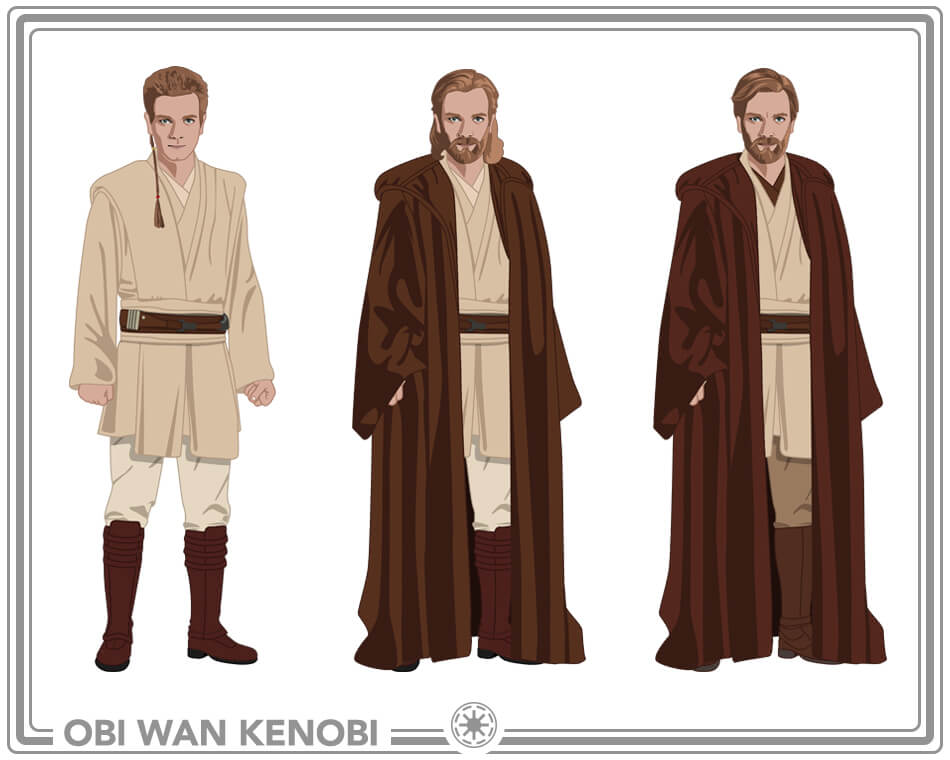 Obi-Wan Kenobi's prequel trilogy evolution starts from his status as a Jedi Padawan to becoming Anakin's Jedi master and ultimately his opponent at the conclusion. Starting with The Phantom Menace, Obi-Wan's costume was constructed to be similar to the one worn by the character in the original film. A tunic and tabard over plain white shirts and pants achieved this costume look. The tunic and tabard combo was constructed with a light woven fabric known as Indian homespun. By the time he becomes a Jedi, he wears a vintage brown wool cloak that matched the one used by the character in A New Hope. The only notable change in his costume look was an alteration of pant and undershirt color in Revenge of the Sith. He costume look in all of the films was accented with a leather belt and riding boots.
Anakin and Darth Vader Costume Ideas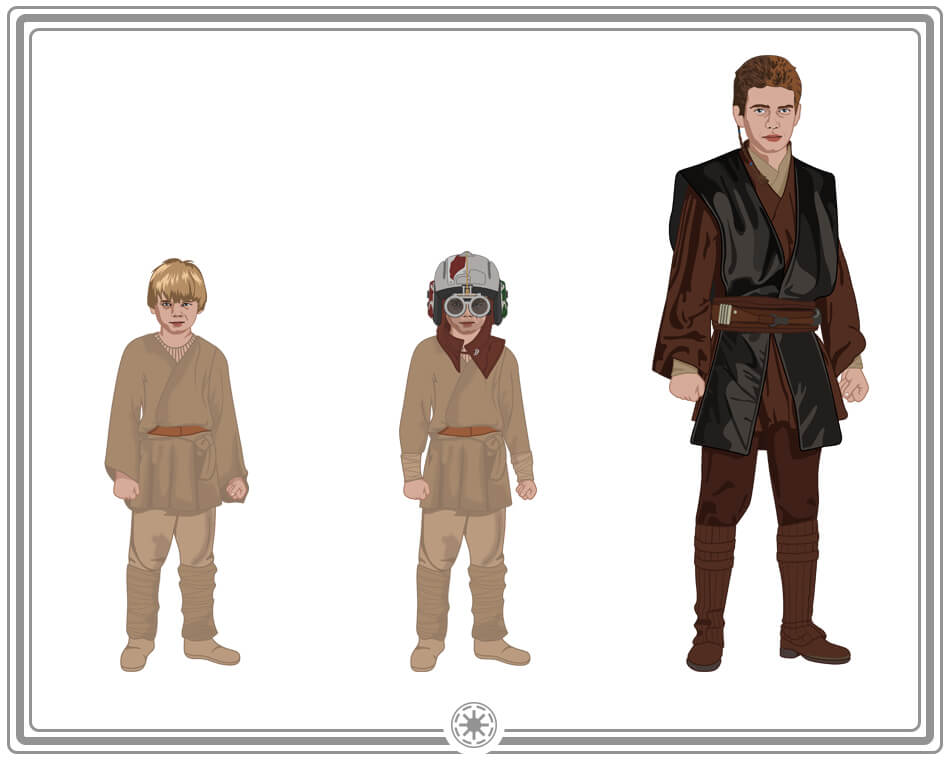 Anakin's journey through the prequel trilogy took him from humble slave beginnings to becoming the most feared villain in the Galaxy. When we first meet him as a child in The Phantom Menace, his slave costume served to convey his status, with coarse materials and a rough-hewn fabric material. Ragged leg wraps, faux suede boots, and a leather utility belt rounded out the costume. A simple addition of a detailed helmet with attached goggles served him when he became a podracing champion. By the time of Attack of the Clones, Anakin had become a Jedi Padawan and wore a costume similar in style to the other Jedi, but of different construction. A leather tabard covered a darker hued tunic and pants with a belt and boots similar to Obi-Wan's.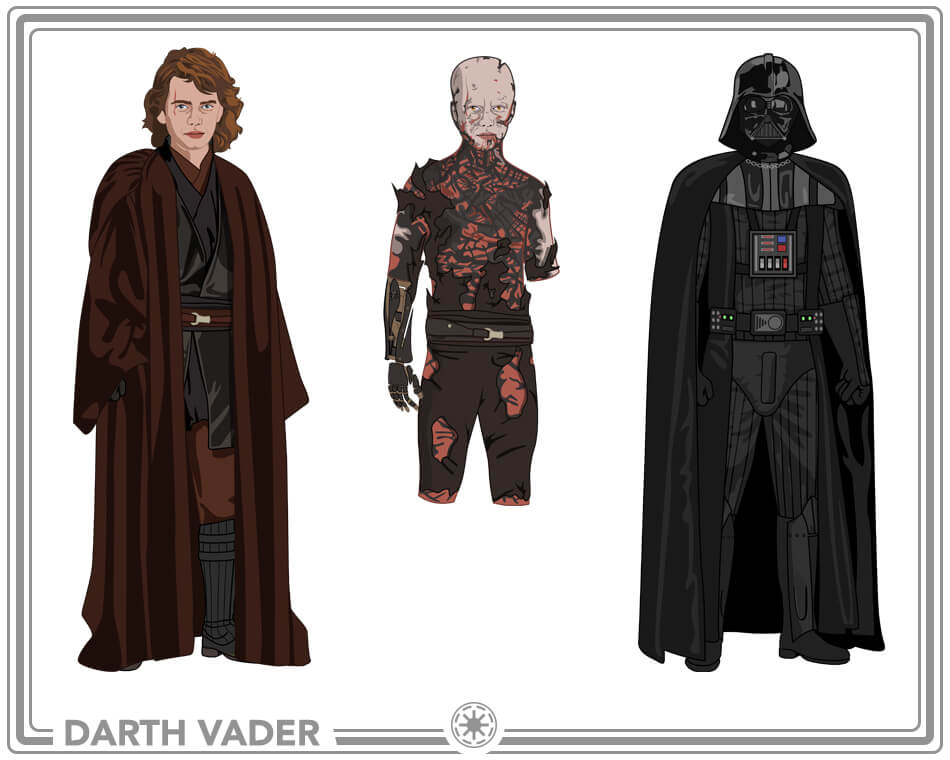 Only very slight color changes were implemented for Revenge of the Sith, but he was outfitted with the typical Jedi cloak. After turning to the dark side he nearly perished as Darth Vader, but was rescued and repaired by Palpatine. With the costume intended to be a mix of cybernetic technology and the powers of the dark side, the debut of the infamous Darth Vader support suit would complete his costume evolution. It's brief appearance at the conclusion of the prequel trilogy was an only slightly altered design from the costume used in the old films with a polished, brand-new effect added.